Small Home, No Problem! Here's the 14 Best Bungalow Interior Design Ideas
Designing your home to reflect your style can be one of the best parts of being a homeowner. If you're living in a small home, like a bungalow style house, it can seem a little more difficult to create your perfect aesthetic without cluttering up the space. But turning your home into a reflection of your personality doesn't have to be challenging whether you're renting a home in San Diego, CA, or living in Chicago, IL.
To help you find the perfect design style for your house, we've consulted top interior designers for their best bungalow interior design ideas. Check out what they had to say so you can begin designing your home today.
When in doubt "kiss"
"Kiss" - keep it simple stupid. A practical philosophy for small homes and messy homes. One flooring throughout - it makes the home feel bigger. All white walls and ceilings - it makes light reflect, making homes look bigger. Poof - your small home just doubled in size or there about. - Susie St. John | studio owner | leed ap id+c | interior designer, embrio DESIGN STUDIO
Every item should have a place to shine
When your cherished items have a designated place to be showcased and indispensable items have a location to hide, a smaller home will live well and be forever welcoming. One full wall of built-in storage can manage a multitude of necessities and create a focused display zone at the same time. By allocating a mere 12" of wall space to thought out storage - every stockpile and collection will be within reach, but out of sight. - Beth Welsh, Interior Changes.
Less is more when you have a small home
Less is more. When you're able to have space to breathe and good circulation, it helps to create a cohesive and comfortable home. Natural light and light walls help make the space feel bigger and open. You can still use color, if you like that as much as I do, but lighter colors should be considered. A trick that I used before are mirrors. They can really help to decorate, create interest, and make the room feel bigger. - Kitchy Crouse, KC Interior Design
Use all your space efficiently
The main aim in designing for a bungalow sized property is to give the illusion of more space while strategically planning that space to allow for maximum storage. It's possible, it just takes a little planning, and working smarter with what you have. More than anything we are sure to make use of every square inch of real estate, both inside and outside the home. Of special importance is making use of the vertical space. When downsizing, moving into a bungalow can be a challenge, however it allows you to simplify your life, declutter the unnecessary and lighten your load. It's a completely refreshing experience. - Allison Andrea-Maestas, The Beverly Bungalow LLC
Consider all the angles
Neutral walls and layered lighting (think a thoughtful mix of can lights, ceiling fixtures, and floor and table lamps) have the power to open a room while providing a backdrop for statement art pieces, or even a gallery wall. In smaller, bungalow-style homes it's important to consider all of the angles from which your feature wall can be seen, particularly when your floor plan is open. If your gallery wall can be experienced from multiple areas of the home, let it shine and avoid adding other competing elements that might make the space feel cluttered. - Elizabeth Krueger, Elizabeth Krueger Design
You can still be bold with patterns and colors in a small space
Whether you vibe with a bolder aesthetic, or you like to keep the palette a little more neutral, small spaces don't need to mean small impact. The key to pulling off a bolder design in a smaller space is to first and foremost, pay attention to the size and scale of the patterns and materials that you are using. Of course, you'll want to make sure that your furniture is size and scale appropriate for your space, but paying attention to the combinations of patterns is also important. Small spaces can be layered with so much interest, but it's also important to give the eye a place to rest and practice some restraint. That's why I'd suggest choosing a feature "star" in a room, and work around that. Perhaps it's a wallpapered ceiling or wall, a large oversized statement light, or maybe a bold sofa acts as the room's main star. - Kara O'Connor, Kara O'Connor Interiors, LLC
Be intentional with your choices
When designing smaller spaces, furniture pieces need to be intentional and multifunctional. Try extra ottomans or poufs instead of bulky arm chairs for additional seating. Scale is everything. Sometimes large bulky pieces or design features can weigh down a room. Focus on creating enough lighting with larger windows and design elements that don't feel heavy or overpowering. - Alyce Lopez, The True House
Don't be afraid to have personality in each room
When designing spaces in smaller homes, there are some themes to carry from room to room, but don't be afraid to give each space their own personality. Choose one metal finish for things like lighting and door hardware and be consistent from room to room so that each has an anchor. Choose one paint color for common spaces that flow into one another, like the entry hallway, family room, and kitchen. But feel free to choose unique colors or even wallcoverings for stand-alone rooms like dining rooms, powder rooms, and bedrooms. - Chad Esslinger, CHAD ESSLINGER DESIGN
You can easily create a cozy space
A key advantage to having a small home is the opportunity to easily create cozy, intimate spaces without having to incorporate artificial borders or walls within a room. Any design aesthetic could be utilized as long as furnishings and finishes are kept in proportion and scale to the size of the respective room. - Karen L. Johnson, Principal/Creative Director, Karen Lee Johnson Interiors
Stick to some continuity in your small house
With smaller homes, you want to choose a color scheme that has a unifying thread for continuity. You don't have to select the same color for every room, but you want them to flow seamlessly from one to the next, like choosing the same color in the living room and the adjacent hallway. Otherwise it can end up feeling choppy. It's nice to incorporate some period features if you have a historic home, but you want a nice balance of vintage and new to keep the overall look modern. Scale is even more important when working in small homes, but that doesn't necessarily mean going small. Often, one show stopping piece is much better than a bunch of tiny items. You can have a lot of personality in things that don't take up space like light fixtures. - Marisa Wilson, Marisa Wilson Interior Design
Don't ignore scale and proportion
One of the most common mistakes people make when designing their interiors is not considering the scale and proportion of the home furnishings they want to purchase. What might look good in a large showroom space is often oversized for the smaller rooms of your apartment or house. For example, the sofas you choose may be too big or too small for your space, or they may have arms that are too wide or too thin for the dimensions of your room. The trick is to think about your space as a cityscape and then fill it with a combination of proportions and heights that fit the size of your room. - Jean Atchison, Atchison Architectural Interiors LLC
Simplicity is key
When choosing a design aesthetic for your space, remember to keep it simple. As a designer, in order to curate unique intentional spaces, I design around a conceptual narrative. For example, nature inspired design on a winter day, could include a gradient of cool neutrals, like grays, whites, and then could use materials with a warm contrast like certain wood and metallics. Choosing each piece to go with your design concept is a great way to achieve a cohesive look. Also, nature inspired design has been scientifically proven to reduce stress and increase joy. - Ani Yufe, Principal Designer/Founder, Angle Interior Design
Adopt a more minimalist bungalow interior design
Minimalist interior design for small spaces. Watch an old James Bond movie where the villain's homes show that less is always more. - Jerry Hoffman, Jetsetty
Think multifunctional when it comes to furniture
Multifunctional pieces are key in a smaller home - think tables as desks, chairs as bedside tables and if you're really struggling on space for guests, a day bed can be dressed up to be a very pretty sofa. Be clever with walls and wall mount anything you can. Sconces, mirrors, televisions and storage. The right lighting is key so get some expert advice there- a well placed mirror will also make a room seem double its size. - Joanna Wood, International Interior Design Practice, Joanna Trading Ltd.
JEAN ATCHISON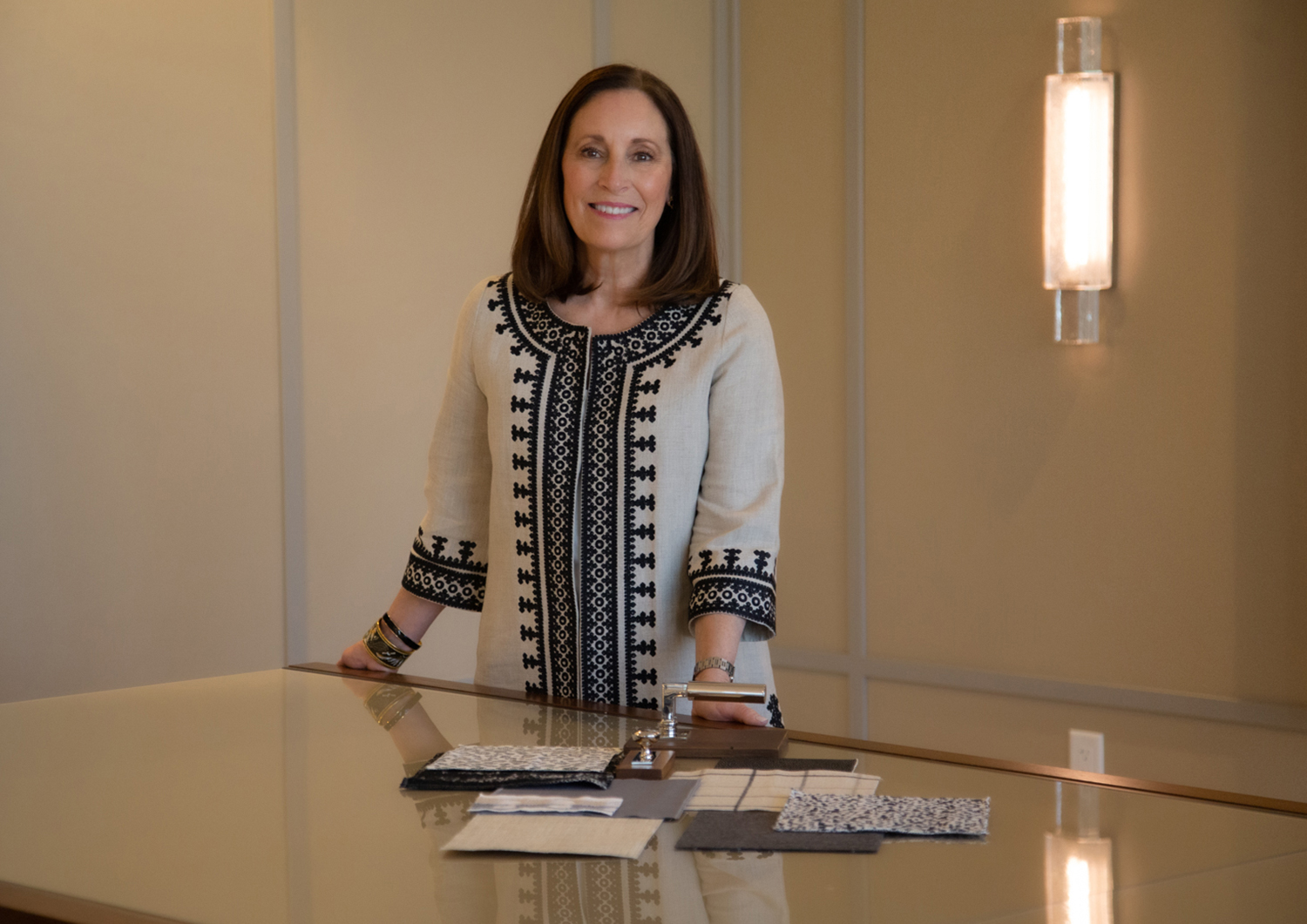 Diane H Reilly Photography
Atchison Architectural Interiors designs classic and timeless spaces infused with a chic modern vibe. By merging traditional and contemporary elements, the team creates fresh, sophisticated looks. Their interiors are elegantly balanced, carefully edited, and current with a thoughtful mix of furnishings, textures, finishes, and objects.
Whether your aesthetic is contemporary or traditional, nationally recognized interior designer, Jean Atchison, will work closely with you to bring your vision to reality and create a home that is uniquely your own.
---
---