Smart Ideas for Designing A Home With Pets
Of all the things homeowners need to consider when tackling a home renovation, how their dogs or cats will use the features in the house isn't always at the top of their priority list. However, whether you are building a new home or redesigning your existing home, it is important to consider your pet's needs and how best to accommodate your four-legged friends.
Many pet owners today are designing a space around their animals. At Atchison Architectural Interiors, we absolutely love our furry friends, and want to make sure that your furry babies get the house experience they deserve. This is why I have written down a few truths about designing a home with pets. A pet's size, age, health, and temperament will likely affect which pet-centric features make the most sense for your home, so as an expert, I recommend that you take those specifics into consideration before getting to work.
1. Select a pet-friendly fabric
You know, as well as we do, your pet will find a way to get onto that beautifully upholstered sofa. Hence, it's best to choose pet-friendly fabrics that will stand the test of time rather than collect stains and fur! Double rubs are a way to measure the abrasion resistance and durability of a fabric. Try to use commercial-grade fabrics with between 100,000 to 200,000 double rubs.
You should also try and use performance fabrics or solution-dyed acrylic fabrics which are stain and moisture resistant. You can actually bleach solution-dyed acrylic fabrics without it changing the color. Another thing to keep in mind is that cats don't like velvet, velour or mohair since they cannot scratch their nails into it. This is why you should consider using short pile fabrics in the color of your pet's hair or fur. Lastly, select area rugs made of polypropylene or acrylic fibers as they are washable when those accidents happen and are good for both indoor and outdoor use. They have other advantages, too, such as being lightweight, high strength, high toughness, corrosion-resistant and they protect against UV rays.
2. Incorporate a dog or cat area
Outside is already your dog's domain, but they deserve a designated spot somewhere inside the house, too! A simple dog room idea is to combine your laundry room into a pet palace! Add a comfy dog bed and their favorite toy next to your washer and dryer to easily create a multi-use room. It will also be a convenient area to bathe your dog since cleaning supplies are already there. If your furry friend is a cat, incorporate a bottom cabinet as the litter box.
Have an office or reading room where you spend a lot of your time? Craft an indoor dog den under a window seat, banquette bench, or a section under your desk so your best friend can be near you! For the bedroom, purchase a nightstand that is actually a dog crate for maximum space efficiency.
Don't have an entire room to dedicate to your pup? Choose the corner of a flex room or use part of a closet to create a comfortable dog house. Similarly, an unused nook or the space under the stairs can be made into a pet's favorite spot.
3. Design a base cabinet for your pet
Make it easy on yourself and your pet by building in a place in a base cabinet for your pet to relax and to store their food. Design your kitchen, mudroom, or storage area with a bottom cabinet just for your pet or remove an existing cabinet under the countertop to place their comfy cushion.
Remember to ensure that you plan a convenient location for the pet food, one that is water-resistant. You can try and incorporate their feeding station into a specific base cabinet. Dedicate a bottom drawer or a retractable toe-kick for the pet bowls. They can be pulled out at feeding time and then slide back in and out of the way when done. Dedicate a deep drawer near the pet bowls for the storage of those big bags of dog and cat food. It is a great way to store pet food and dishes in kitchens or utility rooms with limited space. Not only is this solution highly functional, but it also keeps the floor clear of dirty bowls and spilled kibble. You can also use a square pet mat designed to catch spills while they are eating.
4. Have a well-designed pet gate
Although it may seem like a complicated task, it's really as simple as child-proof latches. The cabinets and any door or window should have a buffer against cold air and wind to ensure that it won't just blow open for your pets to escape. A doggie door can be an actual door or an opening directly into a wall. These "doors" can be trimmed with casings and moldings just like the rest of your home. Dual flaps can provide protection against the elements and allows the pets to go outside as needed. Make sure all your cabinets and furniture used for your pets get a specific treatment of paints designed for smelly areas. SuperPaint Interior Acrylic is a good paint with air purifying technology that will help you get rid of any foul smell. To keep pets out of places you don't want them, consider using baby gates or installing swinging gates or a half wall so pets can still be with you but out of the way without feeling shut off.
5. Secure your pet for safety
While you're considering all the elements that go into a home remodeling project, you'll be thinking about a lot of things like budget, time, and how to get through any inconveniences that might arise during the project. But don't forget to think about the safety and comfort of your pets during your home renovation! Stay aware of open doorways and windows. Renovations of all kinds will inevitably result in open doors while workers move in and out, especially with projects that involve replacing windows and doors or working on exterior walls. Be mindful of this and make sure your pets don't have the chance to wander out. Also, watch out for dangerous materials. Small hazardous items such as nails, staples, tacks, and anything sharp may get left on the floor and cut tender paws.
Pets are part of our family and considering their environment as you plan yours will make your home a happier and more comfortable place for everyone. Designing a home with these pet-friendly features will ensure that our four-legged family members have a home that accommodates their needs and still looks great!
If you are looking for a luxury interior architect and designer in Chicago, then reach out to the experts at Atchison Architectural Interiors. As an interior designer from Chicago, IL, I have over twenty-five years of experience designing classic and timeless spaces infused with a chic modern vibe. I have maintained a reputation for excellence in design and interior architecture and provide the highest level of professional service in their residential and commercial projects. I offer a range of interior design services to clients across Palm Beach and Naples, Florida; Vail and Aspen, Colorado; Lake Geneva, Wisconsin. To learn more about the services I offer, please click here. To get in touch with me, please click here.
JEAN ATCHISON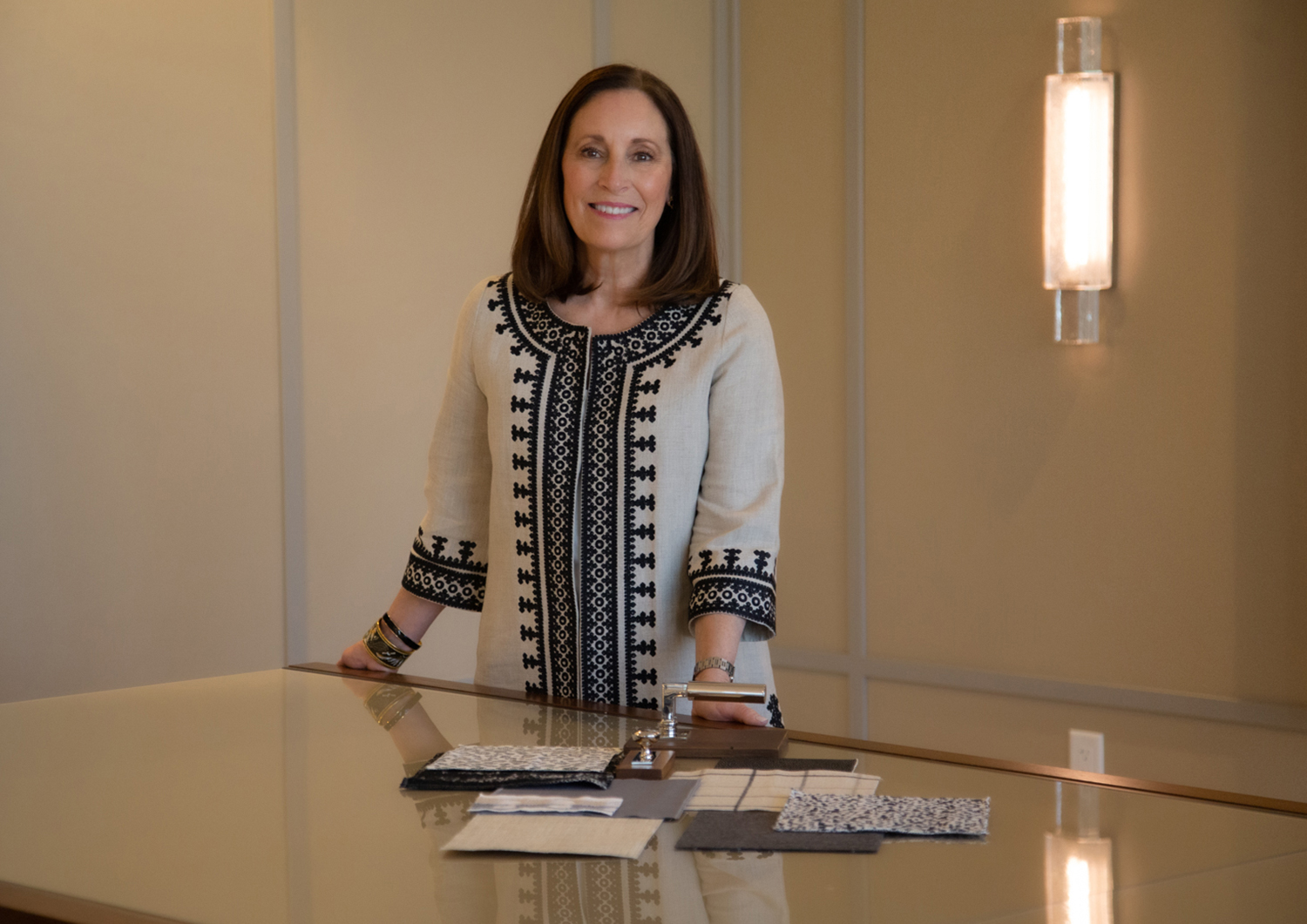 Diane H Reilly Photography
Atchison Architectural Interiors designs classic and timeless spaces infused with a chic modern vibe. By merging traditional and contemporary elements, the team creates fresh, sophisticated looks. Their interiors are elegantly balanced, carefully edited, and current with a thoughtful mix of furnishings, textures, finishes, and objects.
Whether your aesthetic is contemporary or traditional, nationally recognized interior designer, Jean Atchison, will work closely with you to bring your vision to reality and create a home that is uniquely your own.
---
---