5 Reasons You Should Choose Atchison Architectural Interiors For Your Next Interior Design Project
Are you planning to work on the interior design of your home to renovate or update? Do you feel unprepared in creative ideas or lacking in the understanding of what is involved in the design process? If so, you need a professional interior designer to help design the perfect residence that will be sophisticated and stunning for you and your family.
However, with so many offerings out there, you need to do your research to find an interior design firm that matches your expectations and is able to deliver your project on time and within budget.
At Atchison Architectural Interiors, we are confident about the services we provide and are happy to tell you why we are the top name in architectural interior design. We have been around for over twenty-five years and have many successful projects. If you're looking for a luxury interior designer to transform your space and inspire your life, here are a few reasons why we believe we are the best at what we do.
We offer professional assessment
When you choose us, we will assess your home's current state. This allows us to build a well-researched action plan. With our expertise, we will develop a scope of work and the order in which to accomplish it. We will guide you through this process in an organized way and help determine what needs to be done; what needs to be created new and what can be repurposed. By merging contemporary and traditional elements, our team creates fresh, sophisticated interiors.
We save you from costly mistakes
Another reason our services are in high demand is that our team comprises professionals who know how to prevent expensive interior design mistakes while helping our clients navigate the difference between a trend and a look that will be current for years. We understand which design elements need to be incorporated early in the design development phase of a project so they do not have to be added as an extra expense later. We manage the project timelines to ensure the work stays on schedule and is going smoothly.
We have better resources and contacts
Interior designers have access to unique trade resources for furnishings, fabrics, and vendors that are not available to the public. Professional expertise and our creative design direction can elevate the project to a higher level than a client is able to do on their own. Thanks to our contacts and partners, we work with craftsmen and workrooms to incorporate the best in the industry for your project. We will work to be sure you are getting the best products and services at a fair and reasonable price. This results in a project of the highest quality, functionality and longevity.
Our eye for detail
At Atchison Architectural Interiors, we have a keen eye for details and, as professionals, can spot potential problems early on and handle them proactively. With so many decisions to make, it is good to have a professional to work through the decision making with you. Wall and lighting placement or architectural details, for example, need to be considered before construction begins. We are trained to keep tiny details in mind so that the end result is what you expected.
We want the best for you
Finally, we want what's best for our clients and will always create a stunning, well designed home with furnishings you will love. The design process can be a little overwhelming, but we will be there to make sure your needs are met. This includes saving time and money immediately and in the long run. We take the stress off you so that you enjoy the process and not the hassle.
As a leading interior designer in Chicago for over twenty-five years, we have maintained a reputation for excellence in design and interior architecture and delivered the highest level of professional service, taking on both residential and commercial projects.
From Fortune 500 companies to a newly married couple's first apartment, our portfolio includes a wide range of luxury projects throughout the United States, including some of Chicago's most notable and elegant homes.
If you have a project in mind, we will manage all aspects of the design-build team, from concept through construction and furniture installation to meet your goals, space, and budgetary requirements.
Get in touch with us today!
To learn more about our process, please click here. To get in touch with us, please click here or call us at (773) 404-5533.
JEAN ATCHISON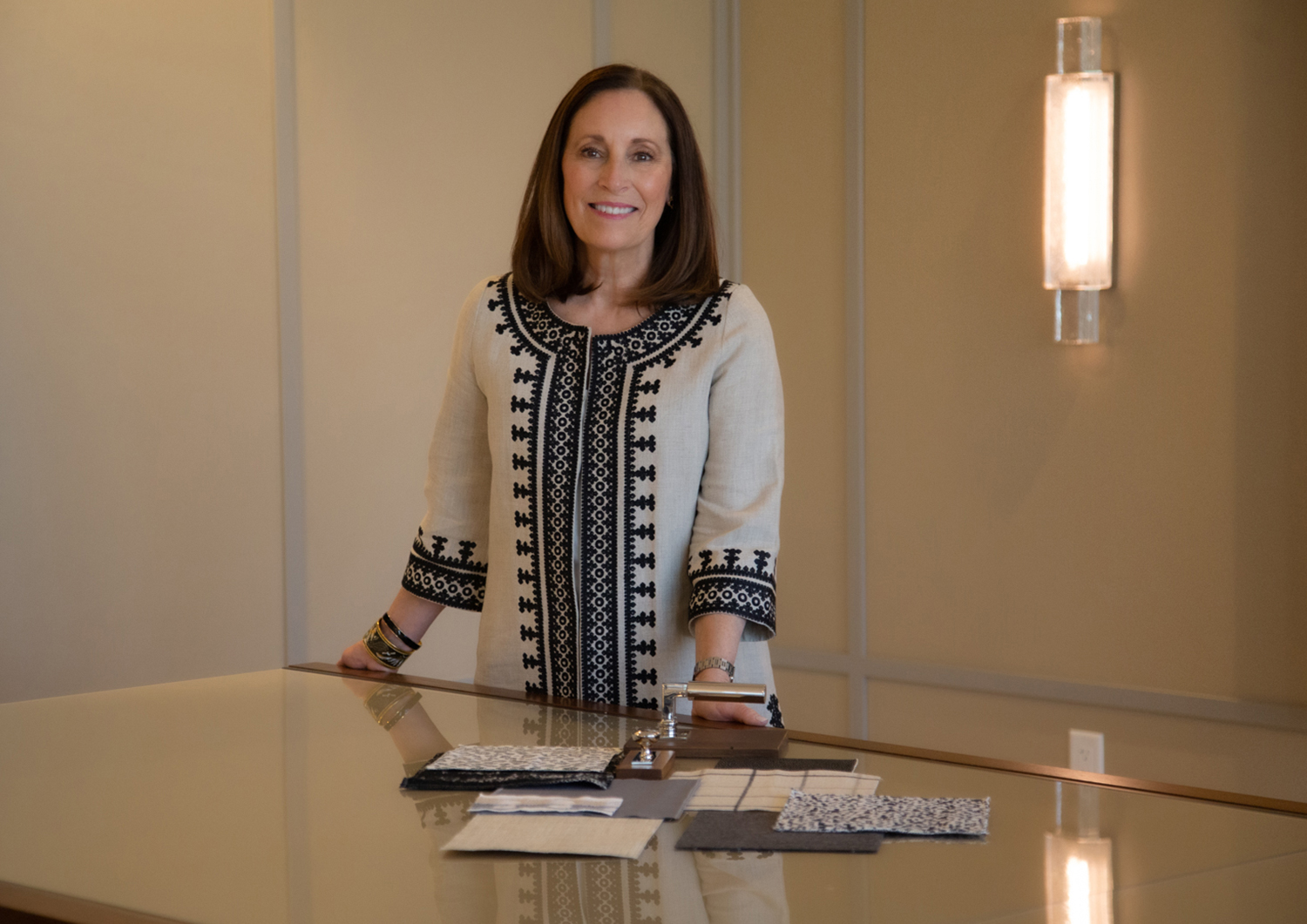 Atchison Architectural Interiors designs classic and timeless spaces infused with a chic modern vibe. By merging traditional and contemporary elements, the team creates fresh, sophisticated looks. Their interiors are elegantly balanced, carefully edited, and current with a thoughtful mix of furnishings, textures, finishes, and objects.
Whether your aesthetic is contemporary or traditional, nationally recognized interior designer, Jean Atchison, will work closely with you to bring your vision to reality and create a home that is uniquely your own.
---
---